How to make a cash payment on Million?
You can make official cash payments on Million by the following steps:
You go to Bank Services page on the menu
Then open Pasha Bank page
Customer ID: 00202343 and TIN: 1404983391
Write course name and period you would like to enroll in the description cell. for example: "X course quarterly" or "Excel course 6 months"
Make payment in AZN account
Send your cheque and info about your tapoyren account to WhatsApp: (+994 51) 232 39 75 or

[email protected]
If you have any question, please, use contact information mentioned on the contact page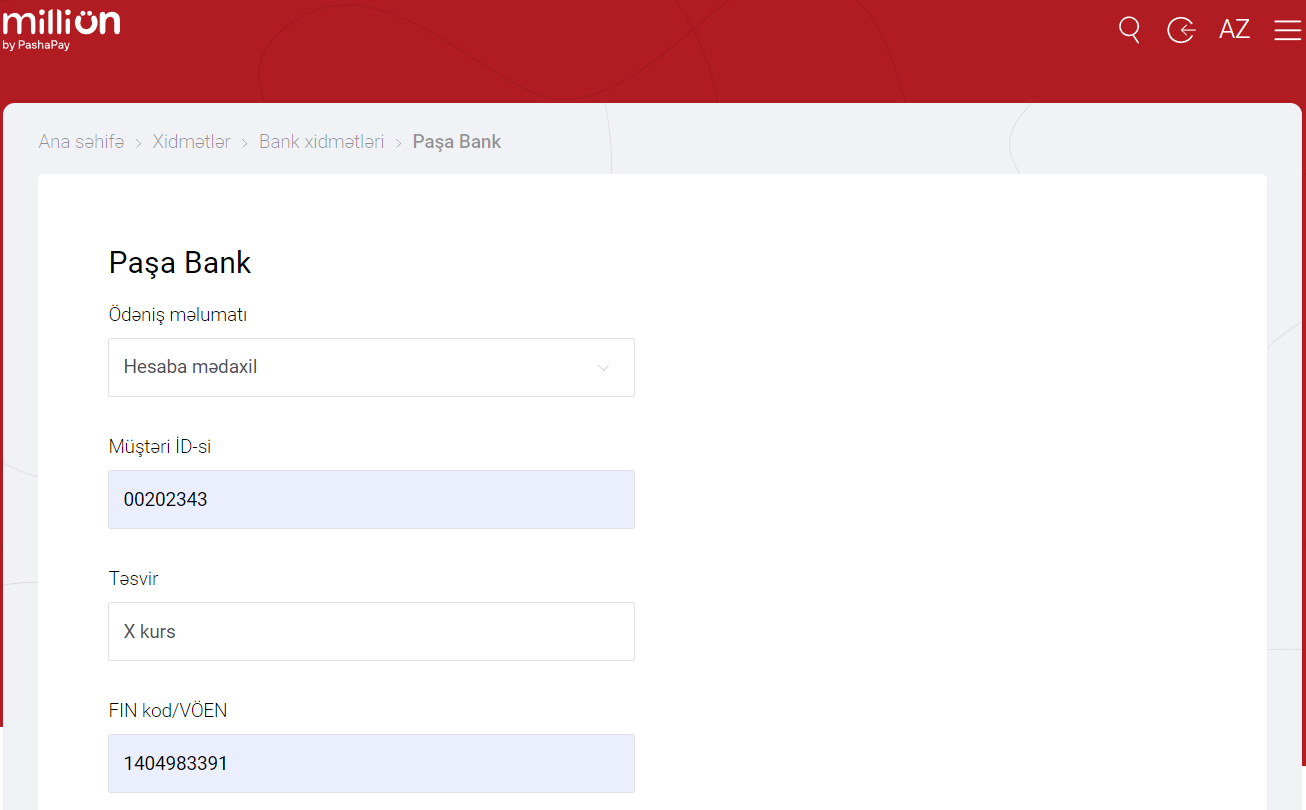 How can I register an account?
You will see the "Register" button on the home page. When you press that button, you will fill in your information on a page as follows: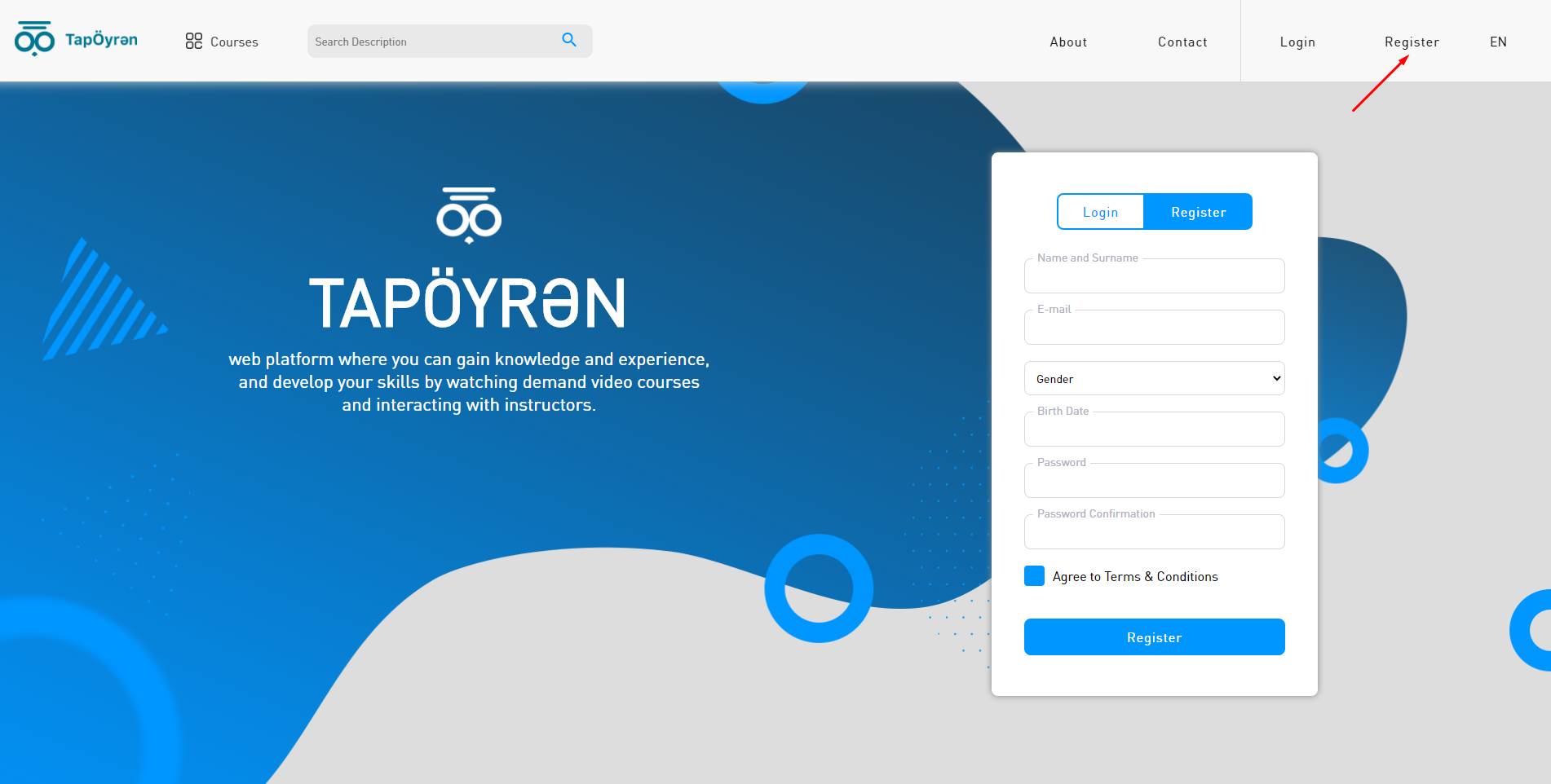 Please write your full name and surname correctly. Your email address must be correct as well, as you will receive a confirmation email when you open an account. After filling in the other information, if you agree with the rules, click on the box for "agree with terms and conditions" and click the button "Register".
Mail sent to your email address can be either in the "inbox" or in the "spam" or "junk" folders. If none of them are available, you click on the "re-send email" message on the home page.
You confirm your account on the mail sent to your email address.
You already have a verified account and can easily enroll to the courses.
How can ask my questions to instructors about the topic?
You can ask your questions on lecture page as clicking the Questions and Answer button as presented below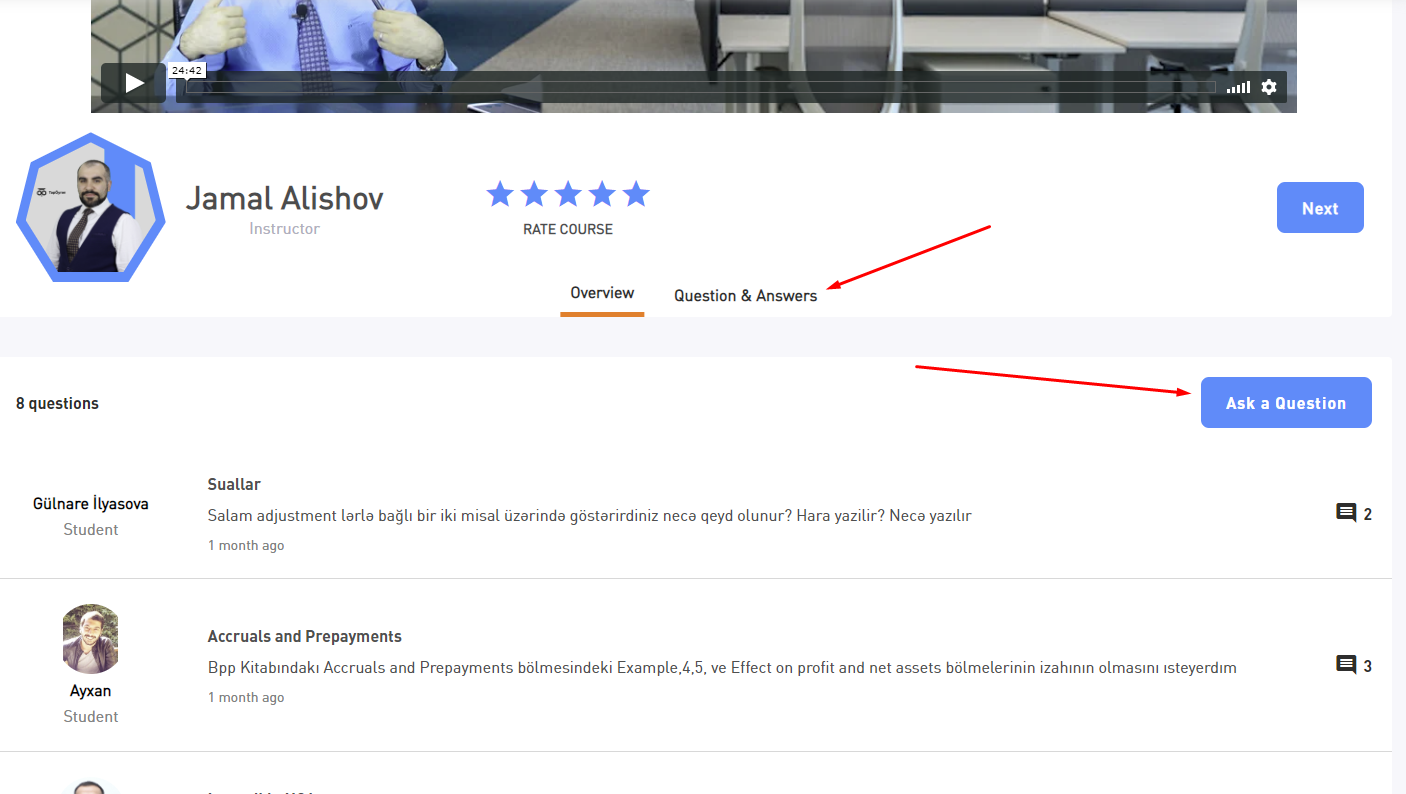 Aylıq, rüblük, yarım-illik və illik abunəliyin mənası nədir?
Saytımızda kurslara girişi abunəliklə əldə edirsiniz. Hər bir video-kursun öz səhifəsində qiymətlər yazılıb.
Siz rüblük (3 aylıq), yarım-illik (6 aylıq) və ya illik (12 aylıq) abunəliyin ödənişini əvvəlcədən etdiyinizdə daha çox endirimli qiymətə kursa giriş əldə edirsiniz.
Siz kursa girişi aylıq belə götürsəniz bütün video dərslərinə girişiniz aktivləşir, abunəlik sadəcə müddət xarakteri daşıyır. Bu abunəlik müddəti ərzində 7/24 dərslərdən istifadə edə bilərsiniz.
Kurslardan sertifikat əldə edə bilərəm? (English version will be released)
Əlbəttə, lakin sertifikat bəzi kurslarda verilir. ACCA, CFA və DipİFR kimi kursların sertifikatları beynəlxalq imtahanlarla alınır və bu kurslar həmin imtahanlara hazırlıq məqsədi ilə hazırlanıb. Bu səbəbdən, bu kursları bitirdiyinizdə TapÖyrən Sertifikatını almayacaqsınız, sadəcə imtahana daxil olaraq beynəlxalq şəkildə tanınan sertifikatlar əldə edə bilərsiniz. İmtahanları həmin qurumların Azərbaycandakı imtahan mərkəzlərdində verə bilərsiniz. Misal üçün Barattson bu qurumlardan biridir.
"Adobe Photoshop", "HTML və CSS", "Excel A-dan Z-yə", "iOS Development", "Mühasibat uçotu: Maliyyə uçotu" və "Vergi Uçotu" kimi kursları müvəffəqiyyətlə bitirdiyinizdə direktor və təlimçinin imzası ilə təsdiqlənmiş TapÖyrən sertifikatı əldə edəcəksiniz. Hər bir kursun öz səhifəsində bu sertfikatları necə əldə etmək olar ayrıca yazılıb.
What are the benefits of video courses?
You will have access to all lectures of the course you enrolled
Doesn't matter where you are and what time of the day you enter to watch the lectures. Lectures are ready on 7/24 for watching and learning.
You can keep track of your performance on the KPI dashboard on your profile
Attending quizzes at courses you can recognize your strength and weaknesses by topics
You can ask your questions to the instructor on the Q&A side of the course
You can watch lectures as many times as you like within the period of subscription
By watching and learning from video-courses you will save your money, time and get competitive advantage
How can I get any discount for ACCA, DipIFR or CFA courses?
Now you can get a discount coupon with any achievements at your exams of ACCA, DipIFR or CFA.
You just need to send:
🔸 Proof of achievement passing exam
🔸 E-mail address of your account
to [email protected] and you will get a coupon code to use on tapoyren.com.
Discounts are as follows:
🔹 50-65 points - 10% Discount
🔹 66-75 points - 20% Discount
🔹 76-80 points - 30% Discount
🔹 81-90 points - 50% Discount
🔹 91-100 points - 100% Free of Charge
Good luck!
İmtahana hazırlıq kursları olan ACCA, DipIFR və CFA kurslarına və paketlərinə "Qarantiya" (Localisation will be made)
ACCA, DipIFR və CFA kurslarımızdan istifadə edən tələbələrə qarantiya.

Kurslardan istifadə etməsinə baxmayaraq imtahandan keçə bilməyənlərə:
🔸ACCA, DipIFR kurslarından ən az 3 aylıq istifadə etmiş olanlara, rüblük ödənişsiz giriş
🔸CFA kurslarından ən az 6 ay istifadə etmiş olanlara, 6 aylıq ödənişsiz giriş veriləcəkdir.

Bunun üçün şərtlər:
🔸Tapoyren platformasındakı hesabının e-mail adresi
🔸İmtahana girib kəsildiyini dair sənədlərin/mail-lərin nüsxələri
[email protected] e-poçt ünvanına yollamaları kifayətdir.

Əlavə məlumat üçün:
✉️ [email protected]
📞+99455 6670057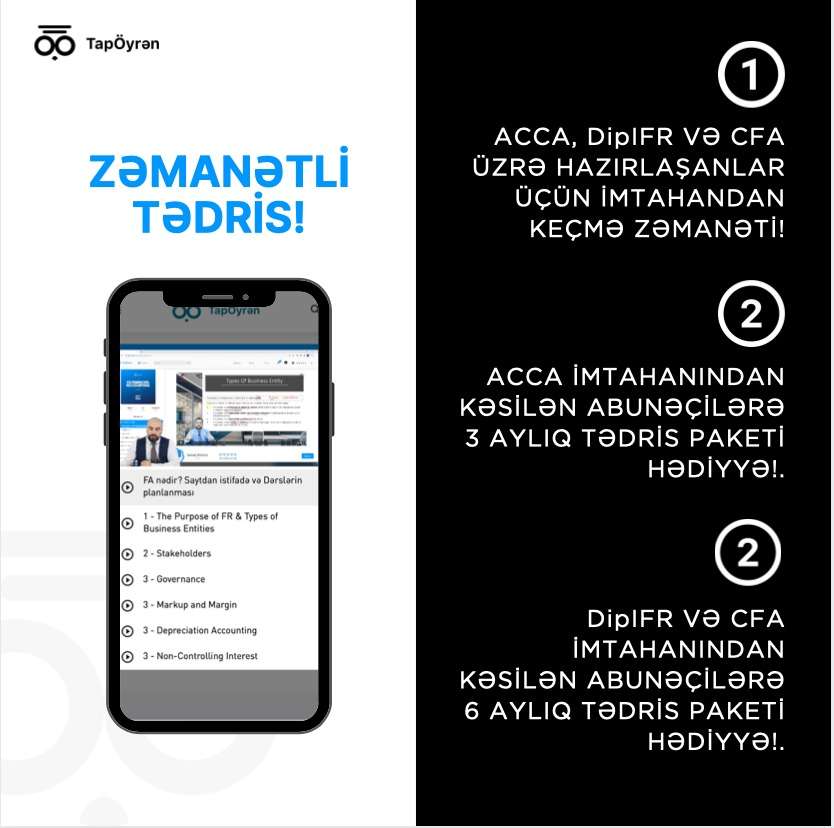 What we should do with discount coupon code (Description will be translated soon)
Endirim zamanı aşağıdakı addımları atmaq lazımdır:
Öncəliklə saytımızda qeydiyyatınız (hesabınız) yoxdursa hesab yaratmalısınız:
Hesabınız varsa axtarışa istədiyiniz kursun və ya paketin adını yazın. Axtarışdan sonra kurs və ya paket səhifəsinə daxil olun

Əgər kartla ödəniş edəcəksinizsə səhifədəki "Enroll" düyməsinə klikləyin
Əgər milliön vasitəsilə ödəniş edəcəksinizsə bu səhifədə necə ödəniş etmək olur izah edilib.

Qeyd: milliön ilə edilən ödənişlərinizdə endirimli qiymətə aldığınız kursu daha sonra istifadə edə bilərsiniz. Bunun üçün əlaqə yaradıb bildirmək lazımdır.

Abunəlik paketlərindən hansını seçmək istəyirsinizsə, altında kupon kodu yazaraq "Enroll" düyməsinə klikləyin, endirimli qiymət ilə ödəniş portalına keçid ediləcək
Ödənişi etdikdən sonra abunəliyiniz aktivləşir və siz abunəlik müddəti boyunca kursun / paketin bütün dərslərinə 7/24 daxil olaraq izləyə bilərsiniz.
Hər hansı bir əlavə sualınız olarsa əlaqə yarada bilərsiniz https://tapoyren.com/contact
Is it possible to pay via M10?
Yes, it is possible. You can make payment according to the information QR below. After you make payment:
1 - Your email address linked to your Tapoyren account
2 - Name of the course or package you would like to subscribe
should be written to +994556670057 WhatsApp.
Your subscription will be activated within a day.